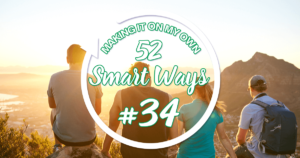 Quality time is Love Language #3
Value the friends who give you good memories and don't ever swap them for material things 
Smart Way #34 of Making It on My Own; 52 Smart Ways to Smash It in the Real World.
Quality time doesn't just mean being together in the same room. It means meaningful communication and interaction, but many of us forget what this actually is!
Before children reach the age of about three years old, they don't interact – they 'parallel play'. Adults are usually doing the same when they're watching television. However, watching a movie, then having coffee and discussing it is meaningful, quality time and creates good memories.
For quality conversation to create quality time it requires two ingredients: listening and sharing. The latter might be telling an interesting story at dinner – all part of learning to express your feelings, observations and opinions.
Sometimes though, conversation is more about showing empathy and simply listening to what the other person is saying. Beware of constantly analysing and attempting to fix the issues you're hearing. This does not build loving relationships.
In Smart Way #34 I go into more detail about how to develop quality conversations and encourage you to read it. I also recommend the book 'Body Language' by Alan Pease.
Here's a great tip to finish on. Try not to interrupt whoever is speaking. On average, people can only listen for 17 seconds before interjecting with their own ideas, which is why listening is a skill we can and should develop.